Bharat: The Mother Of Democracy Portal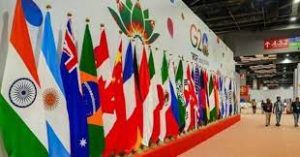 On the eve of the G20 leadership summit, the Ministry of Culture launched a portal of the mega exhibition—'Bharat: The Mother of Democracy'.
"Bharat: The Mother of Democracy" Portal showcases the content on the history of democracy in India, showcasing 7,000 years of democratic ethos starting from the Sindhu-Saraswati civilisation to 2019.
It is available in 16 languages, including German, French, Spanish, Arabic, Portuguese, Italian, Turkish, and Russian besides English and Hindi.
The portal is divided into five sections and 22 sub-sections starting from Sindhu-Saraswati Civilisation (6000-2000BCE), Mahajanapada and Gantantra (7-8 BCE), Vijaynagar Empire (14-16 century), and Mughal emperor Akbar reign (1556-1605) to Constitution of India (1947) and Elections in Modern India (1952 onwards).