INSPIRE Awards 2022: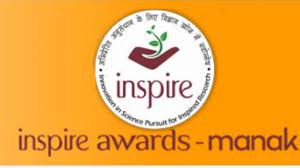 The 9th National Level Exhibition and Project Competition (NLEPC) for the INSPIRE Awards – MANAK (Million Minds Augmenting National Aspiration and Knowledge), has commenced.
The INSPIRE Awards were presented to 60 Start-Ups and financial support was provided to 53,021 students.
It touched an unparalleled level of inclusivity by representing ideas and innovations of 702 districts of the country (96%) including 123 out of 124 aspirational districts, with 51% representation from girls, 84% participation from schools located in rural areas of the country and 71% of the schools run by the State / UT Governments.
INSPIRE (Innovation in Science Pursuit for Inspired Research) Award:
It is aligned with the 'Start-up India' initiative and is being executed by DST (Department of Science and Technology) with National Innovation Foundation – India (NIF), an autonomous body of DST.
Under this, the students are invited from all government or private schools throughout the country, irrespective of their educational boards (national and state).
Financial support of Rs 10,000 each would be provided so that they could develop prototypes of the ideas which they submitted for the scheme.