A400M Atlas: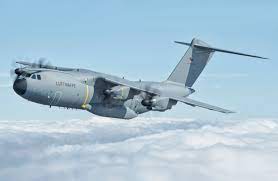 Airbus, a leading aircraft manufacturer globally, responds to the Indian Air Force's Request for Information (RFI) for a Medium Transport Aircraft (MTA) with the A400M Atlas.
A400M Atlas is a multi-national four-engine turboprop.
The aircraft is manufactured by Airbus Defence and Space, a division of the European aerospace and defence firm Airbus.
It is a multi-role aircraft that serves as both a tactical airlifter and a strategic airlifter.
It can be used for transport, air-to-air refueling, and paratroop missions.
The A400M's normal operating speed is 555km/h, but it can reach a maximum speed of 780km/h.
The aircraft weighs approximately 76,500kg, and the maximum take-off weight is 141,000kg.
It stands out for its ability to carry oversized cargo, including vehicles and helicopters.
The A400M cockpit is fully night-vision compatible and provides accommodation for two pilots and an additional crew member.
It can be converted into a tactical tanker that has the ability to refuel a range of aircraft and helicopters.