Birsa Munda Birth Anniversary: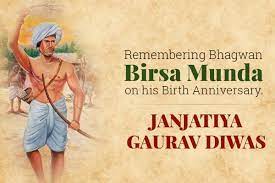 The Prime Minister 2 day visit is scheduled to the native village of tribal icon Birsa Munda on his birth anniversary and launch a welfare scheme for the community.
Birsa Munda was a folk hero and a tribal freedom fighter hailing from the Munda tribe.
He spearheaded an Indian tribal mass movement that arose in the Bihar and Jharkhand belts in the early 19th century under British colonisation.
Munda rallied the tribals to fight against the forceful land grabbing carried out by the British government, which would turn the tribals into bonded labourers and force them to abject poverty.
He influenced his people to realise the importance of owning their land and asserting their rights over it.
As a reaction to the introduction of the Zamindari system, or Permanent settlement in tribal areas, Birsa Munda in 1894 declared "Ulgulan", or revolt, against the British and the Dikus – the outsiders.
He created a faith called 'Birsait'.
Known as 'Dharti Abba' or the Earth Father, Birsa Munda stressed the need for the tribals to study their own religion and not forget their cultural roots.
Birsa Munda propagated the principles of Hindu religion.
He died on June 9, 1900, at age 25.
His struggle against exploitation and discrimination against tribals led to a big hit against the British government in the form of the Chotanagpur Tenancy Act being passed in 1908. The act restricted the passing on of land from the tribal people to non-tribals.
In recognition of his impact on the national movement, the state of Jharkhand was created on his birth anniversary in 2000.
November 15, the birth anniversary of Birsa Munda, was declared 'Janjatiya Gaurav Divas by the Central Government in 2021.