Vadhvan Port : Initiated Process For Construction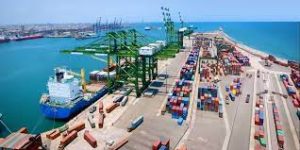 The Vadhavan Port Project Ltd. (VPPL) has initiated the process for construction of the ₹76,220 crore port and public hearings are likely to begin in the next few months.
Vadhavan Port is a proposed Rs 75,000 crore container port project at Vadhavan in Maharashtra.
The port will be developed as a joint venture by the Jawaharlal Nehru Port Authority (JNPA) and the Maharashtra Maritime Board (MMB).
The new port has a natural draft of about 20 metres close to the shore, making it possible for it to handle bigger vessels.
It will enable the call of container vessels of 16,000- 25,000 TEUs (twenty-foot equivalent units) capacity, giving advantages of economies of scale and reducing logistics cost.
It will be designed to handle around 254 million tonnes (MT) of cargo.
It will be developed as a Green Port. It is planning to provide green fuel to ships coming to the port, and the construction and operations are planned to keep in mind the environmental issues.