Black Eagle : Spotted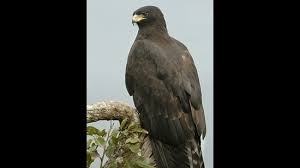 A rare black eagle was spotted for the first time in the lush Chail wildlife sanctuary located in Himachal Pradesh's Solan district.
Black Eagle belongs to the family Accipitridae and is the only member of the genus Ictinaetus.
These are large and distinctive dark eagles of forested mountains and hills.
The distinguishing feature of the majestic bird is its striking yellow beak, a vibrant contrast to its black feathers.
They soar over forests in the hilly regions of tropical and subtropical South and Southeast Asia, as well as southeastern China.
They are found in the Indian states of Himachal Pradesh and Jammu & Kashmir, forests of the Eastern and Western Ghats in peninsular India.
Conservation status
Chail wildlife sanctuary:
It is located in the state of Himachal Pradesh.
It comprises part of the catchment area of a tributary of the Giri River.
It is densely covered by Oak and Pine, apart from grassland.
It includes animal species of wild boar, goral, sambar, spotted deer, Himalayan black bear, common langur, Indian porcupine, flying squirrel, etc.