D4 Drone System : To Be Showcased At Aero India 2023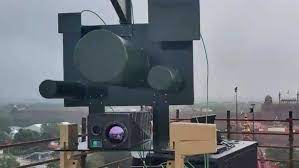 The D4 anti-drone system which was used for security during the Republic Day parade is one of the products to be showcased at Aero India 2023.
The Drone Detect, Deter and Destroy system (D4S) is the first indigenously developed anti-drone system to be inducted into the Indian Armed Forces.
It is developed by Defence Research and Development Organisation (DRDO) and manufactured by Bharat Electronics Limited (BEL).
Purpose is to detect rogue drones that are likely to attack most vulnerable places.
D4 system can instantly detect and jam micro drones (Soft kill) and use a laser-based kill mechanism to terminate targets (Hard kill).
It uses DRDO's RF/Global Navigation Satellite System (GNSS) to detect the frequency which is being used by the controller and the signals are then jammed.
It can detect and jam micro-drones at a distance of up to 3 km.
It can lase a target 1-1.25 km far depending on the wattage of the laser weapon.
Aero India:
It is a biennial air show and aviation exhibition held in Bengaluru, India at the Yelahanka Air Force Station.
It is organised by the Defence Exhibition Organisation, Ministry of Defence.