Agni Tattva – Energy For LiFE Campaign: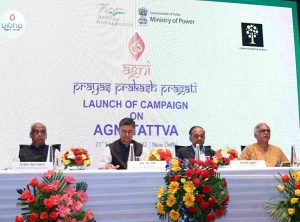 The Union Minister of Power and New & Renewable Energy launched the Agni Tattva – Energy for LiFE campaign, to create awareness of the core concept of Agni Tattva, an element that is synonymous with energy and is amongst the five elements of Panchmahabhoot.
The Panchmahabhoot comprises of Earth (Prithvi), Water (Jal), Fire (Agni), Air (Vayu) and Aether/ Space (Aakash).
Agni Tattva Campaign would provide a platform to deliberate upon the learning and experiences of subject experts and specialists and explore solutions for a sustainable future for all.
Further, it will cover several important topics focusing on health, transport, consumption and production, security, environment, and spirituality.
The idea of LiFE was introduced by India during the 26th United Nations Climate Change Conference of the Parties (COP26) in Glasgow in 2021.
The idea promotes an environmentally conscious lifestyle that focuses on 'mindful and deliberate utilisation' instead of 'mindless and wasteful consumption.
With the launch of the Mission, the prevalent "use-and-dispose" economy governed by mindless and destructive consumption will be replaced by a circular economy, defined by conscious and deliberate consumption.
It seeks to leverage the strength of social networks to influence social norms surrounding climate.
The Mission plans to create and nurture a global network of individuals, namely 'Pro-Planet People' (P3).
P3 will have a shared commitment to adopt and promote environmentally friendly lifestyles.
Through the P3 community, the Mission seeks to create an ecosystem that will reinforce and enable environmentally friendly behaviours to be self-sustainable.