The Champaran Satyagrah Express: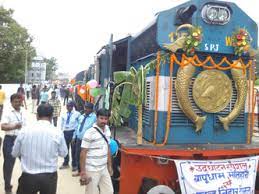 Frequency of Champaran Satyagraha Express has been increased to bi-weekly by Ministry of Railways.
The Champaran Satyagrah Express is an Express train belonging to Northern Railway zone that runs between Bapudham Motihari and Anand Vihar Terminal in India.
Bapudham Motihari Railway Station is a major railway station in Motihari, East Champaran district of Bihar.
Anand Vihar Terminal is a railway station in the Anand Vihar locality of Delhi.
The Champaran Satyagraha of 1917 was the Satyagraha movement led by Mahatma Gandhi in India and is considered a historically important rebellion in the Indian freedom struggle.
The farmers were protesting against having to grow indigo with barely any payment for it.