Vijayanagara: The 31st District Of Karnataka: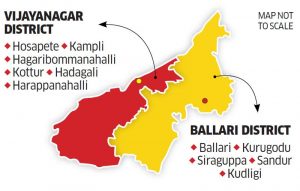 The Karnataka Government recently notified that, the Vijayanagara has become the 31st district of Karnataka officially. The district has its headquarter at Hosapete.
Vijayanagara is located in the Hyderabad-Karnataka region.
The district also is home to UNESCO World Heritage sites namely the Hampi and Virupaksha Temple.
Vijayanagara district has been named after the capital of the Vijayanagar Empire.
The district was established out of the ore-rich Ballari district in accordance with the Karnataka Land Revenue Act, 1964.
The district will comprise of six taluks namely the Hosapete, kotturu, Kudligi, Hagaribommanahalli, Harapanahalli, and Hoovina Hadagali.
Background:
The Karnataka Chief Minister BS Yediyurappa had announced his plan of creating a new Vijayanagara district in the month of September 2019.
The Chief Minister had cited it is required to create a new district for administrative reasons.
He was of the view that the creation of the new district will help in promoting tourism to the places like Hampi temple.
He also said the move will help in the development of six talukas that are part of the district.
Thus, the Karnataka Cabinet formally approved the creation of a new Vijayanagara district on November 18, 2020.