Champions Group Of The Global Crisis Response Group: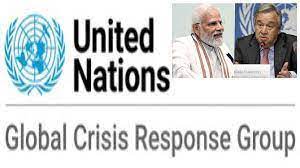 India has accepted an invitation from United Nations Secretary-General António Guterres to join the Champions Group of the Global Crisis Response Group (GCRG).
The GCRG was established (in 2022) by the UN Secretary-General to address urgent global issues related to food security, energy, and finance, and to coordinate a global response.
It is overseen by the Champions Group consisting of heads of state or government from Bangladesh, Barbados, Denmark, Germany, Indonesia, and Senegal.
India's decision to join the group signifies its growing global leadership and commitment to addressing contemporary global challenges.
India's participation will enhance the United Nations' efforts in finding effective solutions for developmental issues that affect the world, particularly developing countries.