Nari Adalats : Unique Initative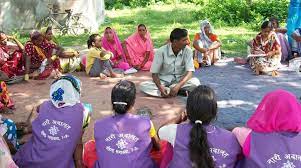 The Indian government is launching a unique initiative to establish women courts (known as Nari Adalats) at the village level as an alternative dispute resolution forum for issues such as domestic violence and property rights.
The pilot project will start in 50 villages each in Assam and Jammu and Kashmir in August and will later be expanded to the rest of the country.
The Nari Adalat of each village would have 7-9 members half of which would be the elected members of the gram panchayat and the other half women with social standing like teachers, doctors and social workers – who would be nominated by the villagers.
The head of Nari Adalat called the Mukhya Nyaya Sakhi[chief legal friend] will be chosen among the Nyay Sakhis.
The tenure of the head will be generally six months after which a new one will be selected.
The courts aim to address individual cases, raise awareness about social schemes, and provide accessible and affordable justice through alternate dispute resolution, counselling, and grievance redressal.
The initiative is part of the Sambal sub-scheme of Mission Shakti (Ministry of Women and Child Development), which focuses on strengthening women's safety, security, and empowerment.
The scheme draws inspiration from the Parivarik Mahila Lok Adalats, which were run by the National Commission for Women until 2014-15 and addressed family and matrimonial disputes.
It is Collaboration between the Ministry of Women and Child Development, Ministry of Panchayati Raj, Ministry of Rural Development and Common Service Centers operated by the Ministry of Electronics and Information Technology.