China-Horn Of Africa Peace, Governance And Development Conference: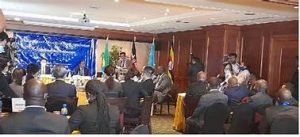 First "China-Horn of Africa Peace, Governance and Development Conference." was held.
This is the first time China aims "to play a role in the area of security".
The conference held in Ethiopia witnessed the participation of foreign Ministries from the following countries of the Horn: Kenya, Djibouti, Ethiopia, Sudan, Somalia, South Sudan, and Uganda.
The Horn of Africa is a peninsula in Northeast Africa.
Located on the easternmost part of the African mainland, it is the fourth largest peninsula in the world.
It lies along the southern boundary of the Red Sea and extends hundreds of kilometres into the Guardafui Channel, Gulf of Aden, and Indian Ocean.
The Horn of Africa is equidistant from the equator and the Tropic of Cancer.
The Horn contains such diverse areas as the highlands of the Ethiopian Plateau, the Ogaden desert, and the Eritrean and Somalian coasts.
The Horn of Africa denotes the region containing the countries of Djibouti, Eritrea, Ethiopia, and Somalia.
The area has experienced imperialism, neo-colonialism, Cold War, ethnic strife, intra-African conflict, poverty, disease, famine and much else.