24th National Conference On e-Governance 2021: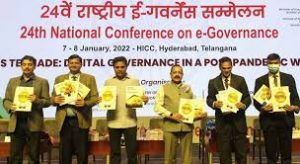 The 24th National Conference on e-Governance (NCeG) was organised by the Department of Administrative Reforms & Public Grievances (DARPG, Ministry of Personnel, Public Grievances & Pensions) and Ministry of Electronics & Information Technology (MeitY), in association with the State Government of Telangana.
DARPG is the nodal agency of the Government of India for administrative reforms as well as redressal of public grievances relating to the states in general and those pertaining to Central Government agencies in particular.
The Conference provides a platform for constructive exchange of ideas on some of the latest technologies for promoting e-Governance.
At the conference, the 'Hyderabad Declaration' on e-Governance was adopted.
The declaration aims to bring citizens and governments closer through digital platforms and transform citizen services through the use of technology.
The Conference resolved that Government of India and State Governments shall collaborate to:

Transform citizen services through use of technology by leveraging the artifacts of India Stack that include Aadhaar, UPI, DigiLocker, UMANG, e Sign and consent framework.
Fast track the implementation of the national level public digital platforms in key social sectors viz. Health, Education, Agriculture, etc by adopting open interoperable architecture for joined up connected services.
Operationalize the data governance framework to facilitate data sharing within Government entities as also make available all data on data.gov.in except for a negative list.
Foster responsible use of emerging technology such as Artificial Intelligence, Machine Learning, Blockchain, 5G, Augmented Reality, Virtual Reality, etc for Social Empowerment.
Make India the global hub for emerging technology through creation of a large pool of skilled resources on futuristic technologies.
Ensure resilient Government Infrastructure with robust technological solutions to withstand pandemic like disruptions.
Integration of all State/District portals with Centralized Public Grievance Redress and Monitoring System (CPGRAMS) for seamless Redressal of Public Grievances.
National E-Governance Service Delivery Assessment (NeSDA) 2021 to be adopted in collaboration with MeITY for improving e-Governance landscape.

Theme: "India's Techade: Digital Governance in a Post Pandemic World"
National e-Governance Awards 2021:
To recognise the implementation of e-Governance initiatives, the National e-Governance Awards 2021 were presented during the Inaugural Session.
26 awards were presented under the 6 categories of the Award Scheme to Central Ministries/Departments, State/UT Governments, Districts, Local Bodies, Public Sector Undertakings and Academic & Research Institutions.