China's New Maritime Rules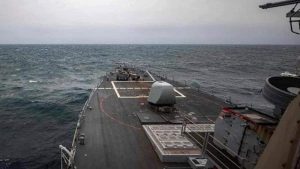 From September 1, 2021, China's new maritime rules designed to control the entry of foreign vessels in what Beijing calls "Chinese territorial waters" take effect.
Foreign vessels, both military and commercial, will be henceforth required to submit to Chinese supervision in "Chinese territorial waters," as per the new law.
The move is expected to have far-reaching consequences for passage of vessels, both commercial and military, in the disputed South China Sea, East China Sea and Taiwan Strait, and is likely to escalate the existing tension with the US and its neighbours in the region.
The South China Sea, which lies between China, Taiwan, the Philippines, Brunei, Malaysia, Indonesia and Vietnam, is of great economic importance globally.
The waters around China are hotly contested. Under a "nine-dash line" map, China claims most of the South China Sea as its sovereign territory. This claim is contested by its neighbours in the region and by the United States, which, though it has no claim in the Sea, backs the smaller nations in the fight against Chinese overreach.
Currently, international maritime activities are governed by an international agreement called the United Nations Convention on the Law of the Sea (UNCLOS) of which China, India and over a hundred other countries are signatories (the US, significantly, is not).
Accordingly, states have the right to implement territorial rights up to 12 nautical miles into the sea. The UNCLOS also states that all vessels have the right of "innocent passage" through this region – China's new law violates this.