Cloned Cow-calf: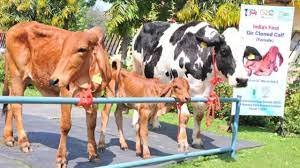 The National Dairy Research Institute (NDRI), Karnal has produced cloned female calves of the desi breed Gir.
Cloned Cow-calf is India's first cloned Gir female calf named Ganga.
To clone the Gir, oocytes are isolated from live animals using ultrasound-guided needles, and then, matured for 24 hours under control conditions.
The somatic cells of elite cows are used as donor genomes, which are fused with OPU-derived enucleated oocytes. Following chemical activation and in-vitro culture, the developed blastocysts are transferred into recipient mothers to deliver the Gir calf.
Cloning:
The term cloning describes a number of different processes that can be used to produce genetically identical copies of a biological entity.
Cloning can be natural or artificial.
Clones can also be produced through artificial means. Biotechnological methods are employed to produce such clones.
Molecular cloning, where copies of specific gene fragments are produced
Cellular cloning, where single-celled organisms with the exact genetic content of the original cell are produced in cell cultures.
Organism cloning, or reproductive cloning, where a multicellular clone is created generally through somatic cell nuclear transfer