State Of The Global Climate For 2020: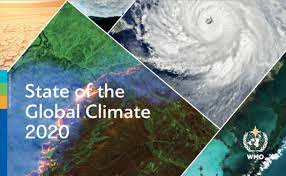 The World Meteorological Organization (WMO) released its annual State of the Global Climate for 2020.
The report was released ahead of the Leaders Summit on Climate, hosted by the US.
Extreme weather combined with Covid-19 was a double blow for millions of people in 2020. However, the pandemic-related economic slowdown failed to put a brake on climate change drivers and accelerating impacts.
Global Temperature:
2020 was one of the three warmest years on record, despite a cooling La Niña event.
The global average temperature was about 1.2° Celsius above the pre-industrial (1850-1900) level.
The other two warmest years are 2016 and 2019.
The six years since 2015 have been the warmest on record.
2011-2020 was the warmest decade on record.
Greenhouse Gases:
The emission of major greenhouse gases increased in 2019 and 2020.
It will be higher in 2021.
Concentrations of the major greenhouse gases in the air continued to increase in 2019 and 2020.
Globally, averaged mole fractions of carbon dioxide (CO2) have already exceeded 410 parts per million (ppm), and if the CO2 concentration follows the same pattern as in previous years, it could reach or exceed 414 ppm in 2021.
Mole fraction represents the number of molecules of a particular component in a mixture divided by the total number of moles in the given mixture. It's a way of expressing the concentration of a solution.
Oceans:
In 2019, the oceans had the highest heat content on the record.
In 2020, it has broken this record further. Over 80% of the ocean area experienced at least one marine heatwave in 2020.
A marine heatwave is defined when seawater temperatures exceed a seasonally varying threshold for at least 5 consecutive days.
The percentage of the ocean that experienced "strong" marine heatwaves (45%) was greater than that which experienced "moderate" marine heatwaves (28%)