Coin Of Rs.75 Denomination: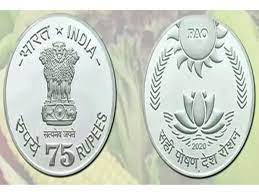 Prime Minister Narendra Modi unveiled a commemorative coin of Rs 75 denomination. Commemorative coins have been issued by India since the 1960s for various purposes, such as honoring notable personalities, creating awareness about government schemes, or commemorating significant historical events.
The newly released Rs 75 coin features a circular shape with a diameter of 44mm.
It is composed of a quaternary alloy, comprising 50% silver, 40% copper, 5% nickel, and 5% zinc.
The face of the coin displays the Lion Capitol of Ashoka Pillar at the center, with the inscription Satyameva Jayate below it.
The word Bharat in Devnagri script is placed on the left periphery, while "INDIA" in English is positioned on the right periphery.
On the other side, an image of the new parliament building is featured, with "Sansad Sankul" inscribed in Devanagari script on the upper periphery and "Parliament Complex" in English on the lower periphery.