Great Pyramid Of Giza : Indian Prime Minister Visit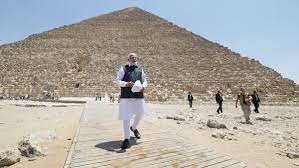 Indian Prime Minister recently visited the Great Pyramid of Giza during his maiden State visit to Egypt.
The Great Pyramid of Giza also called the Great Pyramid and the Great Pyramid of Khufu, is an ancient Egyptian pyramid that is the largest of the three Pyramids of Giza.
It is located on the Giza plateau on the west bank of the Nile River near the modern city of Cairo in Egypt.
It was built by Khufu (Cheops), the second king of Egypt's 4th dynasty(c. 2575–c. 2465 BCE), and was completed about 2560 BCE.
The pyramid was first excavated using modern techniques and scientific analysis in 1880 by Sir William Matthew Flinders Petrie (l.1853-1942), the British archaeologist.
It is the largest Egyptian pyramid which rises to a height of 479 feet (146 metres) with a base of 754 feet (230 metres) and is comprised of over two million blocks of stone.
The pyramid's sides rise at an angle of 51.87° and are accurately oriented to the four cardinal points of the compass.
The Great Pyramid's core is made of yellowish limestone blocks, and the inner passages are of finer light-coloured limestone.
The interior burial chamber is built of huge blocks of granite.