What Is Greenhouse Horticulture?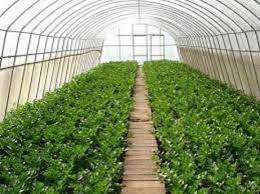 The India Greenhouse Horticulture market held a market value of USD 190.84 Million in 2021 and is estimated to reach USD 271.25 Million by the year 2030.
The market is expected to register a growth rate of 4.19% over the projected period. In 2021, India's greenhouse horticulture production was 27.71 million tonnes.
Greenhouse Horticulture is also known as protected cropping. It is the production of horticultural crops within, under or sheltered by structures for providing modified growing conditions and/or protection from adverse weather, pests, and diseases.
Growth Influencers:

Robust increase in population and food demand.
Rising entrepreneurship under horticulture due to government intervention.

The term horticulture is derived from two Latin words hortus, meaning 'garden', and cultura meaning 'cultivation' hence meaning, crops cultivated in a garden cultivation.
It is a science and art of production, utilisation and improvement of fruits, vegetables, flowers and other plants for human food, non-food uses and social needs.
L.H. Bailey is considered the Father of American Horticulture and M.H. Marigowda is considered the Father of Indian Horticulture.
Mission for Integrated Development of Horticulture (MIDH):
Centrally Sponsored Scheme for the holistic growth of the horticulture sector covering fruits, vegetables and other areas.
Under MIDH, Government of India contributes 60% of the total outlay for developmental programmes in all the states (except North Eastern and Himalayan states where GOI contributes 90%) & 40% is contributed by State governments.
It has five major schemes on horticulture-

National Horticulture Mission (NHM)
Horticulture Mission for North East and Himalayan States (HMNEH)
National Horticulture Board (NHB)
Coconut Development Board (CDB) &
Central Institute of Horticulture (CIH), Nagaland.
National Horticulture Board (NHB):
It was set up in 1984 on the basis of recommendations of the "Group on Perishable Agricultural Commodities", headed by Dr M. S. Swaminathan.
Headquartered at Gurugram.
Objective is to improve integrated development of Horticulture industry and to help in coordinating, sustaining the production and processing of fruits and vegetables.