Mukhyamantri Tirth Darshan Yojana : Madhya Pradesh Govt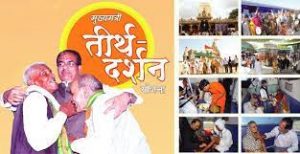 The Scheme was launched by the Madhya Pradesh Government.
Under the scheme, the senior citizens will be taken on a spiritual tour free of cost.
They will be taken to pilgrimage sites that are located outside the state. One or two pilgrimage sites will be visited by them.
The scheme is funded by the Government of Madhya Pradesh.
The scheme is applicable only to senior citizens, that is, persons of age 60 years
For women, two years of age concession is provided
The scheme is to be implemented with the help of IRCTC
During the travel, the tourists will be provided with food, accommodation, bus travel cost, drinking water, etc.