Corbet Tiger Reserve : All Construction activities Banned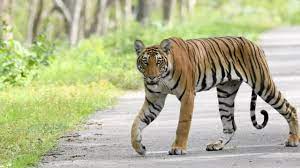 The Supreme Court recently banned all construction activities in the core areas of tiger reserves national parks and wildlife sanctuaries.
A Supreme court-appointed panel noticed that illegal constructions for the establishment of a tiger safari were being done within the buffer area of Corbett Tiger Reserve in Uttarakhand.
Corbet Tiger Reserve:
It is located in the Nainital district of Uttarakhand. This reserve encompasses the Patli Dun valley.
The Ramganga, Sonanadi, Palain and Mandal, and Kosi rivers form the prominent hydrological resource for the Corbett.
The core area of the reserve contains the Corbett National Park and the Sonanadi Wildlife Sanctuary is part of its buffer area.
Flora: The trees which contribute to the Flora of Corbett consist of evergreen Sal and its combined trees, the Sheesham, and the Kanju found extensively on the ridges.
Fauna: Tiger, Leopard, Elephant, Hog deer, spotted deer, Samber etc.