P.N. Panicker: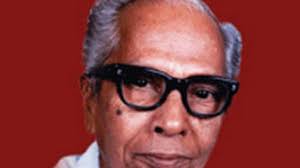 The President of India recently unveiled the statue of Shri P.N. Panicker at Poojappura, Thiruvananthapuram.
P.N. Panicker (1909-1995):
Puthuvayil Narayana Panicker is known as the Father of the Library Movement of Kerala.\
June 19, his death anniversary, has been observed in Kerala as Vayanadinam (Reading Day) since 1996.
In 2017, PM declared June 19, Kerala's Reading Day, as National Reading Day in India. The following month is also observed as National Reading Month in India.
Panicker led the formation of Thiruvithaamkoor Granthasala Sangham (Travancore Library Association) in 1945 with 47 rural libraries.
The slogan of the organization was 'Read and Grow'.
The association – Grandhasala Sangham won the prestigious 'Krupsakaya Award' from UNESCO in 1975.