Council Of Scientific And Industrial Research (CSIR):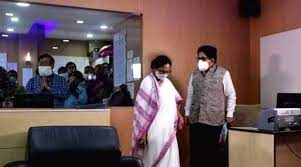 The Prime Minister chaired a meeting of the Council of Scientific and Industrial Research (CSIR) Society through video conference.
Earlier CSIR Floriculture Mission was approved for implementation in 21 States and Union Territories of India.
It is also planning to undertake genome sequencing of a sample of nearly 1000 Indian rural youth to determine unique genetic traits, susceptibility (and resilience) to disease.
It is the largest research and development (R&D) organization in India.
It has a pan-India presence and has a dynamic network of 37 national laboratories, 39 outreach centers, 3 Innovation Complexes, and 5 units.
It is ranked 37th among 1587 government institutions worldwide and is the only Indian organization among the top 100 global government institutions, according to the Scimago Institutions Ranking World Report 2021.
CSIR holds the 7th rank in Asia and leads the country at the first position.
The Prime Minister is the President (Ex-officio) and the Union Minister of Science and Technology is the Vice President (Ex-officio).
CSIR is funded by the Ministry of Science and Technology and it operates as an autonomous body through the Societies Registration Act, 1860.
Established: September 1942.
Located: New Delhi.
Objectives:

Scientific and industrial/applied research of national importance.
It covers a wide spectrum of streams such as Radio and space physics, oceanography, biotechnology, nanotechnology, information technology, etc.
It provides significant technological intervention in many areas with regard to societal efforts which include the environment, health, drinking water, food, housing, energy, farm, and non-farm sectors.