First Woman Director General Of The Council Of Scientific And Industrial Research: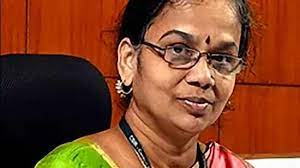 Senior electrochemical scientist Nallathamby Kalaiselvi has become the first woman director general of the Council of Scientific and Industrial Research.
Kalaiselvi's research work of more than 25 years is primarily focused on electrochemical power systems and in particular, development of electrode materials, and electrochemical evaluation of in-house prepared electrode materials for their suitability in energy storage device assembly.
Kalaiselvi also made key contributions to the National Mission for Electric Mobility. She has more than 125 research papers and six patents to her credit.
CSIR:
Council of Scientific and Industrial Research (CSIR) is the largest research and development (R&D) organisation in India.
CSIR has a pan-India presence and has a dynamic network of 37 national laboratories, 39 outreach centres, 3 Innovation Complexes and 5 units.
CSIR is funded by the Ministry of Science and Technology and it operates as an autonomous body through the Societies Registration Act, 1860.