Currency And Finance Report : RBI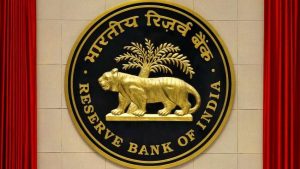 The Reserve Bank of India (RBI) has released a report on currency and finance for the financial year (FY) 2022-23.
The theme of the report is 'Towards a Greener Cleaner India,' which reflects India's focus on reducing carbon emissions and promoting sustainable
The report highlights that India has embarked on a targeted and time-bound climate action plan, and currently ranks the best amongst G-20 countries as per the Climate Change Performance Index, 2023.
India's net-zero target year is 2070,
The report addresses four key aspects of climate change, encompassing its exceptional size and rapidity, macroeconomic impacts, financial stability implications, and strategies to reduce climate risks.
For India to further achieve its net zero target by 2070, the RBI said, the country would require an accelerated reduction in the energy intensity of GDP by around 5 percent annually and a significant improvement in its energy mix in favour of renewables to around 80 percent by 2070-71.