Global Trends Report On Forced Displacement In 2021: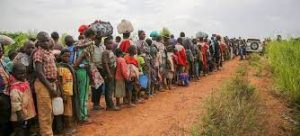 The 2022 annual Global Trends Report was published by United Nations High Commissioner for Refugees (UNHCR).
June 20 is designated as World Refugee Day by the United Nations.
The theme for World Refugee Day 2022 is whoever, whatever, whenever. Everyone has got a right to seek safety.
Highlights of the Report:
Globally 100 million people were forced to flee their homes last year due to violence, human rights abuses, food insecurity, the climate crisis, war in Ukraine, and other emergencies from Africa to Afghanistan.
There were 23.7 million new internal displacements globally due to disasters (these are in addition to those internally displaced due to conflict and violence). This represented a decrease of seven million, or 23%, compared to the previous year.
The largest displacements in the context of disasters in 2021 occurred in China (6.0 million), the Philippines (5.7 million), and India (4.9 million).
The majority of the internally displaced persons returned to their home areas, but 5.9 million people worldwide remained displaced at the end of the year due to disasters.
The number of people forced to flee their homes has increased every year over the past decade and stands at the highest level since records began, a trend that can be only reversed by a new, concerted push towards peacemaking.
India:Nearly five million people in India were internally displaced due to climate change and disasters in 2021.