Cyclone Freddy: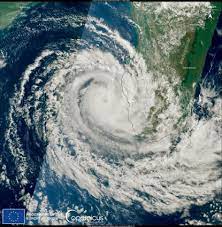 World Meteorological Organisation recently announced the constitution of an expert committee to evaluate the intensity and lifespan of Cyclone Freddy, which is on track to set a record as the longest-lasting tropical cyclone on record.
It originated off the northern coast of Australia and became a named storm on February 6, 2022.
It crossed the entire South Indian Oceanand traveled more than 8,000 kilometers, affecting Mauritius and La Réunion, before making landfalls in Madagascar two weeks later and then Mozambique.
Freddy was the first tropical cyclone in the Southern Hemisphere to undergo six separate rounds of rapid intensification.
It also holds the record for all-time accumulated cyclone energy (ACE) (storm strength during its lifetime) for the Southern Hemisphere.
Freddy is fuelled by the energy provided by the warm ocean surface, consistently sourcing heat and moisture throughout its lifetime.