Cyclone Yaas: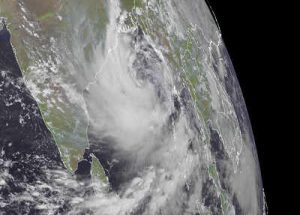 The India Meteorological Department (IMD) has informed that a low-pressure area is formed over the north Andaman Sea and adjoining east-central Bay of Bengal around May 22.
It is likely to intensify into a cyclonic storm by May 24. It has been named Cyclone Yaas.
The name 'Yaas' was suggested by Oman and refers to a tree with a good fragrance and in English, the word is similar to Jasmine.
The next cyclone—after Yaas—is likely to be named Gulab, suggested by Pakistan.
Cyclones are formed over the oceanic water in the tropical region.
In this region, the sunlight is highest which results in the warming of land and water surface. Due to warming of the surface, the warm moist air over the ocean rises upwards following which cool air rushes in to fill the void, they too get warm and rise the cycle continues.