Cyclone Karim: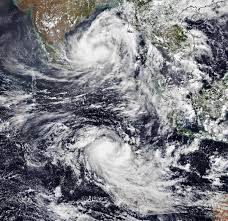 Cyclone Asani, active now in the Bay of Bengal, has a twin — cyclone Karim — in the southern hemisphere.
Karim has been classified as a category II hurricane, with a wind speed of 112 kilometres per hour (kmph).
"Asani remains a Severe Cyclonic Storm over the Bay of Bengal, with wind speeds of 100-110 kmph gusting to 120 kmph," the Weather Channel said.
Both were formed in the Indian Ocean region.
Both cyclones originated in the same longitude and now drifting apart.
Cyclone Karim has created a path in the open seas west of Australia.
The name Karim was given by the South African country Seychelles.