Death Of a Rare Black Tiger : Similipal Tiger Reserve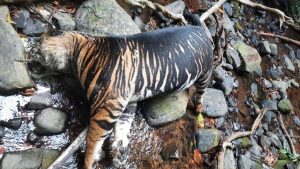 The death of a Rare Black Tiger was reported in the Similipal Tiger Reserve in Odisha.
Simlipal has the world's highest rate of black tiger sightings in the world.
Black Tigers are a rare colour variant of the Bengal tiger and are not a distinct species or geographic subspecies.
The abnormally dark or black coat in such tigers is termed pseudo melanistic or false coloured.
Melanistic refers to having very dark skin/hair due to higher-than-normal level of the pigment
There is a high probability (about 60%) that the tiger will have the mutant gene, if randomly selected from Similipal.
Similipal Tiger Reserve:
It was formally designated a tiger reserve in 1956 and brought under Project Tiger in the year 1973. It was declared a biosphere reserve by the Government of India in June, 1994.
It has been part of the UNESCO World Network of Biosphere Reserve since 2009.
It is part of the Similipal-Kuldiha-Hadagarh Elephant Reserve popularly known as Mayurbhanj Elephant Reserve, which includes 3 protected areas i.e., Similipal Tiger Reserve, Hadagarh Wildlife sanctuary and Kuldiha wildlife sanctuary.
It is situated in the northern part of Odisha's Mayurbhanj district. Geographically, it lies in the eastern end of the eastern ghat.
Similipal is home to a wide range of wild animals including tigers and elephants, besides 304 species of birds, 20 species of amphibians and 62 species of reptiles.