World Press Freedom Index 2023: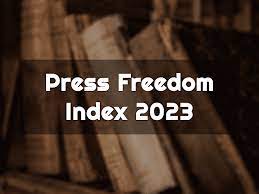 India's ranking in the recently released 2023 World Press Freedom Index has slipped to 161 out of 180 countries.
Highlights of the 2023 Report:
India is ranked 161 out of 180 countries. Press freedom in India has gone from "problematic" to "very bad", with the country slipping 11 ranks since the 2022 report.
Except for Bangladesh (163), Myanmar (173) and China (179), all other neighbours have a better rank than India — Bhutan (90), Nepal (95), Sri Lanka (135), Pakistan (150), Afghanistan (152).
India was positioned 169 in political indicators while it was 144 in legislative, 155 in economic, 143 in social indicators and 172 in the safety of journalists.
Norway is ranked first for the seventh consecutive year.
World Press Freedom Index:
It is an annual report published by the global media watchdog Reporters Without Borders (RSF).
Purpose is Compare the level of freedom enjoyed by journalists and media in 180 countries and territories.
The ranking is based on five categories — political, legislative, economic, sociocultural and safety of journalists.