C-DOT's TRINETRA: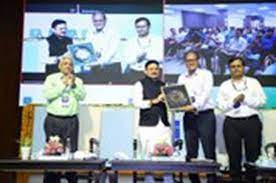 The Minister of State for Communications, Government of India, launched the TRINETRA Security system at the Centre for Development of Telematics (C-DOT) campus in New Delhi.
C-DOT's TRINETRA is a combination of multiple Security systems like Security Information and Event Management (SIEM), Security Orchestration and Automated Response (SOAR), Data Loss Prevention (DLP), User Entity and Behaviour Analytics (UEBA), Multi-Source Threat Intelligence and others.
The solution provides 24×7 near real-time actionable cyber-security status and detection and resolution of cyber-threats (Virus, Malware, Ransomware, Spyware, etc.).
It also performs security evaluation of the organisation's IT assets by protecting endpoints, including PCs, laptops, Servers and VMs, by detection, analyses and mitigation of vulnerabilities and giving AI-enabled automated responses to cyber threats, ensuring the protection of sensitive data.
The solution is capable of protecting the critical digital infrastructure of various Government departments from the ever-evolving cyber threat landscape.
C-DOT:
It was established in 1984 as an autonomous Telecom R&D centre of the Department of Telecommunications, Ministry of Communications, Government of India.
It is a registered society under the Societies Registration Act, 1860.