Eco-Sensitive Zone Of The Deepar Beel Wildlife Sanctuary: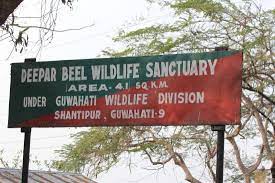 Ministry of Environment, Forest and Climate Change has notified the eco-sensitive zone of the Deepar Beel Wildlife Sanctuary on the south-western edge of Guwahati.
The notification specified an area "to an extent varying from 294 metres to 16.32 km" as the eco-sensitive zone, with the total area being 148.9767 sq. km.
The wetland has for decades been threatened by a railway track — set to be doubled and electrified — on its southern rim, a garbage dump, and encroachment from human habitation and commercial units.
No new commercial hotels and resorts shall be permitted within 1 km of the boundary of the protected area or up to the extent of the eco-sensitive zone, whichever is nearer, except for small temporary structures for eco-tourism activities.
Among activities prohibited in the eco-sensitive zone are hydroelectric projects, brick kilns, commercial use of firewood and discharge of untreated effluents in natural water bodies or land areas.
Deepar Beel is one of the largest freshwater lakes in Assam and the State's only Ramsar site besides being an Important Bird Area.
It is a permanent freshwater lake, in a former channel of the Brahmaputra River, to the south of the main river.
The wetland of Deepar Beel constitutes a unique habitat for aquatic flora and avian fauna.
About 150 species of birds have been recorded in the sanctuary, out of which two are critically endangered, one endangered, five vulnerable and four near-threatened.
Elephants regularly visit the wetland from adjoining Rani and Garhbhanda Reserve Forest and the wetland is an integral part of the elephant habitat.
Besides these, 12 species of reptiles, 50 species of fish, six species of amphibians along with 155 species of aquatic macro-biota have been recorded in the sanctuary.
Eco-sensitive Zones (ESZs):
Eco-Sensitive Zones (ESZs) or Ecologically Fragile Areas (EFAs) are areas notified by the MoEFCC around Protected Areas, National Parks and Wildlife Sanctuaries.