India Japan Summit: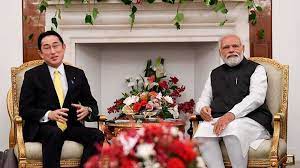 Japanese Prime Minister Fumio Kishida arrived in India for his first visit to the country as the head of government. He met PM Narendra Modi for bilateral talks.
India and Japan set an investment target of "five trillion yen" ($42 billion) in the next five years, the leaders announced after a meeting in New Delhi for the 14th annual summit, where several agreements were signed.
The two sides also exchanged six agreements on cybersecurity, economic partnerships, waste-water management, urban development, a clean energy partnership and an agreement on promoting bamboo-based products from the northeast region.
The "2+2" meeting of Foreign and Defence Ministers in the next few months is due to take forward agreements on the strategic partnership and PM Modi is expected to visit Tokyo in May or June, where he will also attend the Quad summit with the U.S. President and Australian Prime Minister.