Defence India Start-up Challenge 5.0: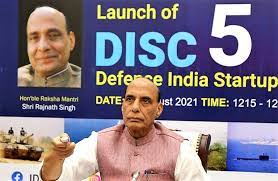 The Ministry of Defence launched the 5th edition of the Defence India Start-up Challenge (DISC) under Innovations for Defence Excellence – Defence Innovation Organisation (iDEX-DIO).
Thirty-five problem statements – 13 from the Services and 22 from Defence Public Sector Undertakings (DPSUs) – were unveiled under DISC 5.0. Some of which are: Situational awareness, augmented reality, Artificial Intelligence, aircraft-trainer, non-lethal devices, 5G network, Underwater Domain Awareness, Drone SWARMS and data capturing.
DISC aims at supporting Startups/MSMEs (Micro Small and medium Enterprises)/Innovators to create prototypes and/or commercialize products/solutions in the area of National Defence and Security.
It is meant to achieve self-reliance and foster innovation and technology development in the defence and aerospace sectors.
It was launched by the Ministry of Defence in partnership with Atal Innovation Mission.
Under the program, the start-ups, Indian companies and individual innovators (including research & academic institutions) can participate.
DISC 5.0 will be a massive leap towards leveraging the startup ecosystem to develop India's defence technologies, equipment design and manufacturing capabilities.
Indigenisation of Defence Sector:
Indigenisation is the capability of developing and producing any defence equipment within the country for the dual purpose of achieving Self Reliance and reducing the burden of imports.
Self-reliance in defence manufacturing is one of the key objectives of Department of Defence Production.
Defence Research Development Organisation (DRDO), Defence Public Sector Undertakings (DPSUs), Ordnance Factory Board (OFB) and private organisations are playing a critical role in indigenisation of defence industries.
The defence ministry has set a goal of a turnover of USD 25 billion in defence manufacturing by 2025 that included an export target of USD 5 billion worth of military hardware.