Tribunal Law Reforms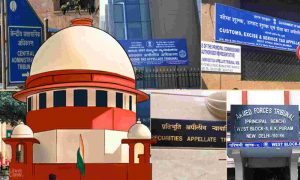 The Tribunal Reforms Act, 2021 was passed in both houses recently. The law has triggered a fresh stand-off between the legislature and the judiciary over the powers of and limitations on law making.
As per the Bill, the minimum age criterion is 50 years for appointment of advocates as members of tribunals and the tenure is four-years.
The court found the caps arbitrary. But, the government has argued that the move will bring in a specialised talent pool of advocates to pick from.
Section 3(1), Sections 3(7), 5 and 7(1) ultra-vires Articles 14, 21 and 50 of the Constitution.
Section 3 (1) bars appointments to tribunals of persons below 50 years of age. This undermines the length/security of tenure and violates both judicial independence and the principle of separation of powers.
Section 3(7) of the impugned Act which mandates the recommendation of a panel of two names by the search-cum selection committee to the Central Government, violates the principles of separation of powers and judicial independence.
Highlights of Tribunals Reforms (Rationalisation and Conditions of Service) Act, 2021:
The Bill seeks to provide for uniform terms and conditions of the various members of the Tribunal and abolish certain tribunals, as a part of its bid to rationalize the tribunals.
It seeks to dissolve certain existing appellate bodies and transfer their functions to other existing judicial bodies.
It seeks to empower the Central Government to make rules for qualifications, appointment, term of office, salaries and allowances, resignation, removal and other terms and conditions of service of Members of Tribunals.
It provides that the Chairperson and Members of the Tribunals will be appointed by the Central Government on the recommendation of a Search-cum-Selection Committee.
It also provides the composition of the Committee, to be headed by the Chief Justice of India or a Judge of Supreme Court nominated by him.
For state tribunals, there will be a separate search committee.
The Union government has to 'preferably' decide on the recommendations of the search-cum selection committee within 3 months of the date of the recommendation.
Tenure: Chairperson of a Tribunal shall hold office for a term of 4 years or till he attains the age of 70 years, whichever is earlier. Other Members of a Tribunal shall hold office for a term of 4 years or till he attains the age of 67 years, whichever is earlier.