DefExpo-2022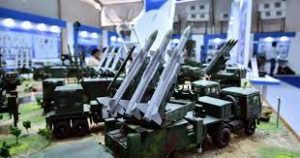 The 12th edition of DefExpo will be held in Gandhinagar, Gujarat in March 2022.
DefExpo is a flagship biennial event of the Ministry of Defence, showcasing the land, naval, air as well as homeland security systems.
The aim of the DefExpo 2022 is to build upon the vision to achieve Atmanirbharta' in defence and reach the $5bn defence exports target by 2024.
The 11th edition of DefExpo was held at Lucknow (Uttar Pradesh) in 2020.
Defence Sector Reforms Under Atmanirbhar Bharat Abhiyan:
Revision of FDI Limit: The FDI limit in defence manufacturing under automatic route is raised from 49% to 74%.
Project Management Unit (PMU): The government is expected to begin time-bound defence procurement and faster decision making by setting up a Project Management Unit (for contract management purposes).
Reduction in Defence Import Bill: The government will notify a list of weapons/platforms banned for imports and thus such items can only be purchased from the domestic market. Separate budget provision for domestic capital procurement.
Corporatisation of the Ordnance Factory Board: It will include a public listing of some units, ensuring a more efficient interface of the manufacturer with the designer and end-user.