Depreciation Of Indian Rupee : All-Time Low Of 77.44 Against The U.S. Dollar: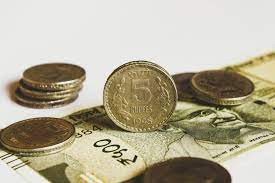 The Indian rupee fell to an all-time low of 77.44 against the U.S. Dollar.
Depreciation:
Currency depreciation is a fall in the value of a currency in a floating exchange rate system.
Rupee depreciation means that the rupee has become less valuable with respect to the dollar.
It means that the rupee is now weaker than what it used to be earlier.
For example: USD 1 used to equal to Rs. 70, now USD 1 is equal to Rs. 77, implying that the rupee has depreciated relative to the dollar i.e. it takes more rupees to purchase a dollar.
Impact of Depreciation of Indian Rupee:
Depreciation in rupee is a double-edged sword for the Reserve Bank of India.
Positive:
Weaker rupee should theoretically give a boost to India's exports, but in an environment of uncertainty and weak global demand, a fall in the external value of rupee may not translate into higher exports.
Negative:
It poses risk of imported inflation, and may make it difficult for the central bank to maintain interest rates at a record low for longer.
India meets more than two-thirds of its domestic oil requirements through imports.
India is also one of the top importers of edible oils. A weaker currency will further escalate imported edible oil prices and lead to a higher food inflation.
Reasons for Current Depreciation of Indian Rupee:
A sell-off in the global equity markets which was triggered by the hike in interest rates by the U.S. Federal Reserve (central bank), the war in Europe and growth concerns in China due to the Covid-19 surge, led to the rupee depreciation.
The outflow of dollars is a result of high crude prices and the correction in equity markets is also causing adverse flow of dollars.
Steps taken by RBI to tighten the monetary policy to counter rising inflation has also led to depreciation.