Diamond Jubilee Celebrations Of The Central Bureau of Investigation (CBI):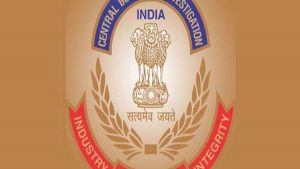 Prime Minister Narendra Modi to inaugurate the Diamond Jubilee Celebrations of the Central Bureau of Investigation (CBI).
Central Bureau of Investigation (CBI) was established as the Special Police Establishment in 194.
Objective is to investigate cases of corruption in procurement during the Second World War.
Later, the Santhanam Committee on Prevention of Corruption recommended the establishment of the CBI.
As a result, it was set up in 1963 by a resolution of the Union Home Ministry.
The Special Police Establishment setup in 1941 was also merged with the CBI
Later, it was transferred to the Ministry of Personnel and now it enjoys the status of an attached office.
The CBI is not a statutory body.
It derives its powers from the Delhi Special Police Establishment Act, of 1946.
The CBI is the main investigating agency of the Central Government.
The CBI investigates the crime of corruption, economic offences and serious and organized crime other than terrorism.
The CBI is headed by a Director who is assisted by a special/additional director.
The Director of CBI has been provided security of two-year tenure by the CVC Act, 2003.
As per the CVC Act of 2003, the Central Government shall appoint the Director of CBI on the recommendation of a three-member committee consisting of the

Prime Minister as Chairperson,
Leader of Opposition in the Lok Sabha
Chief Justice of India or Judge of the Supreme Court nominated by him.
If there is no recognized leader of the opposition in the Lok Sabha, then the leader of the single largest opposition party in the Lok Sabha would be a member of that committee.

The CBI Academy is located in Ghaziabad, UP and started functioning in 1996.
It also has three regional training centres at Kolkata, Mumbai & Chennai.