Digital India RISC-V (DIR-V) Program: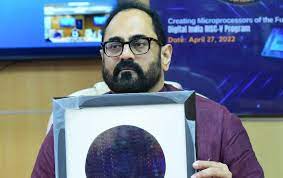 The Union Minister of Electronics & IT addressed the Digital India RISC-V (DIR-V) Symposium organized by IIT Madras in Chennai.
The one-day symposium, organized by IIT Madras, emphasized the government's vision for DIR-V which currently aims to build a robust ecosystem for RISC-V with effective public-private partnerships and collaborations with premiere academic institutions.
Digital India RISC-V (DIR-V) Program is a forward-looking initiative that aims to uplift India's semiconductor ecosystem.
Its primary goal is to promote indigenous innovation in the field of microprocessors, laying the foundation for self-reliance.
The program emphasizes three key principles: innovation, functionality, and performance, shaping its direction for the future.
The program acknowledges the increasing demand for silicon chips in today's digitized world.
As emerging technologies like 5G and 6G reshape the digital landscape, DIR-V anticipates finding applications in various areas such as cloud services, Internet of Things(IoT), and sensors.
DIR-V is positioned at the heart of India's aspirations for high-performance computing.
Collaborations with organizations like the Center for Development of Advance Computing (C-DAC) and public-private partnerships will ensure that DIR-V plays a pivotal role in these ambitious goals.