World Telecom Day 2023: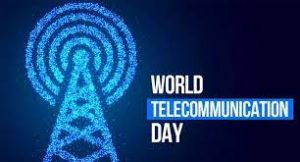 India on May 17, 2023, commemorated World Telecom Day, celebrating the advancements and achievements in the telecommunication sector.
The Sanchar Saathi portal was launched on the day to enhance transparency, security, and accountability in the telecom industry.
The year 2023 also marks the completion of 20 years of Universal Service Obligation Fund (USOF).
World Telecommunication Day is celebrated annually since 1969, to mark the founding of International Telecommunication Union (ITU) and the signing of the first International Telegraph Convention in 1865.
It aims to raise awareness of the importance of telecommunication and its contribution to social and economic development.
The World Summit on the Information Society (WSIS) called for the declaration of May 17 as World Information Society Day.
In 2006, the ITU combined both tents and celebrated them on May 17 as World Telecommunication and Information Society Day (WTISD).
The theme of World Telecom Day 2023 is "Empowering the least developed countries through information and communication technologies".
The theme reflects the commitment of the ITU and its partners to support the least developed countries (LDCs) in harnessing the power of Information and Communications Technologies(ICT) for achieving their sustainable development goals (SDGs).