Digital India RISC-V Microprocessor (DIR-V) Program: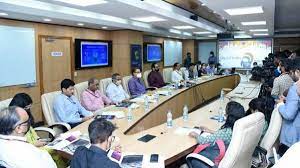 Ministry of Electronics & IT, Government of India announced the Digital India RISC-V Microprocessor (DIR-V) Program.
Its overall aim is to enable creation of Microprocessors for the future in India, for the world and achieve industry-grade silicon & Design wins by December'2023.
DIR-V will see partnerships between Startups, Academia & Multinationals, to make India not only a RISC-V Talent Hub for the World but also supplier of RISC-V SoC (System on Chips) for Servers, Mobile devices, Automotive, IoT & Microcontrollers across the globe.
He also unveiled not only the Blueprint of the roadmap of design & implementation of the DIR-V Program with – SHAKTI Processor by IIT Madras and VEGA Processor by C-DAC but also the strategic Roadmap for India's Semiconductor Design & Innovation to catalyze the semiconductor ecosystem in the country.
Ministry of Electronics and IT is planning to join the RISC-V International as Premiere Board Member to collaborate, contribute and advocate India's expertise with other global RISC-V leaders.