Final Data On The Dolphin Census: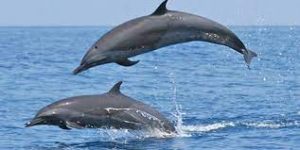 Odisha has released the final data on the dolphin census, indicating a spectacular growth in numbers.
The population of dolphins in Chilika, India's largest brackish water lake, and along the Odisha coast has doubled this year (2021) compared with last year.
Three species were recorded during the census, with 544 Irrawaddy, bottle-nose and humpback dolphins sighted this year, compared with 233 last year.
The rise in the Irrawaddy dolphin population in Chilika can be attributed to the eviction of illegal fish enclosures.
About Irrawaddy Dolphins:
Habitat: Irrawaddy dolphins are found in coastal areas in South and Southeast Asia, and in three rivers: the Ayeyarwady (Myanmar), the Mahakam (Indonesian Borneo) and the Mekong.
The Mekong River Irrawaddy dolphins inhabit a 118-mile stretch of the river between Cambodia and Lao PDR.
Conservation Status:

IUCN Red List: Endangered
CITES: Appendix I
CMS (Convention on Migratory Species): Appendix I
Wildlife Protection Act, 1972: Schedule I
About Indo- Pacific Bottlenose Dolphins:
Habitat: Indo-Pacific Bottlenose Dolphins generally occur in shallow coastal waters of the Indian Ocean, Southeast Asia and Australia.
Conservation Status:

IUCN Red List: Near Threatened
CITES: Appendix II
About Indian Ocean Humpback Dolphins:
Habitat: The Indian Ocean Humpback Dolphin occurs within the Indian Ocean from South Africa to India.
Conservation Status:

IUCN Red List: Endangered
CITES: Appendix I
Wildlife Protection Act, 1972: Schedule I