India's First Biotech Park At Ghatti: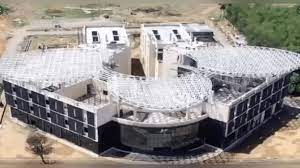 Union Minister, Dr. Jitendra Singh inaugurated North India's First Biotech Park at Ghatti, Kathua district, J&K.
This biotech park will carry out research on biodiversity, medicinal and aromatic plants of Jammu and Kashmir and Ladakh, and it will also promote green category businesses.
The biotechnology park at Kathua has a potential to produce 25 startups in a year which will be among its great contributions to this region.
The work on the two Industrial Biotech Parks, one at Ghatti, Kathua, Jammu and other in Handwara, Kashmir jointly funded by department of Biotechnology, Govt. of India, Ministry of Science & Technology and Jammu & Kashmir Science, Technology & Innovation Council was started in February 2019.
CSIR-Indian Institute of Integrative Medicine, (CSIR-IIIM) Jammu has been entrusted with the responsibility of implementation of this project.