Mehul Choksi Has Been Arrested In Dominica: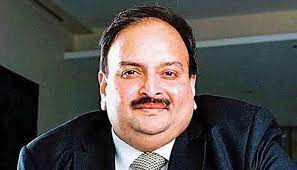 Fugitive diamond trader Mehul Choksi has been arrested in Dominica after he was reported missing early this week from his home in Antigua and Barbuda, the Caribbean nation of which he has been a citizen since early 2018.
Mr. Choksi, wanted for defrauding banks in India, was arrested in Dominica after an Interpol Yellow Notice was issued against him.
Dominica is an island country in the Caribbean.
Its capital is Roseau.
It is geographically situated as part of the Windward Islands chain in the Lesser Antilles archipelago in the Caribbean Sea.
Dominica has been nicknamed the "Nature Isle of the Caribbean" for its natural environment.
It is the youngest island in the Lesser Antilles, and in fact, it is still being formed by geothermal-volcanic activity, as evidenced by the world's second-largest hot spring, called Boiling Lake.
The country is a member of the Commonwealth of Nations, the United Nations, the Organization of American States and the Non-Aligned Movement.