Switzerland – European Union: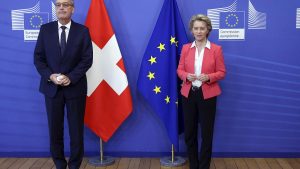 Switzerland said goodbye to years of negotiations with the European Union over a proposed overarching agreement that would have upgraded its relations with the bloc – which are currently governed by a patchwork of more than 120 bilateral deals.
The talks failed after the two sides could not agree over issues such as full access for EU citizens to the Swiss labor market, and the collapse is expected to hamper future ties as the multiple existing agreements become outdated or lapse.
Switzerland is the EU's fourth-largest trading partner and is surrounded by EU countries.
Relations between the two partners rest on the foundation of over 120 separate treaties, something which has frustrated the EU for a long time. Unlike the UK, Switzerland has access to the EU single market and maintains open borders.
For years, the EU had been pushing for an "institutional framework agreement" with Switzerland, suggesting that the lack of an overarching agreement could also hamper cooperation in the labor market, the health sector, education, and research.
Switzerland is a landlocked country bordered by Italy to the south, France to the west, Germany to the north, and Austria and Liechtenstein to the east.
It is a founding member of the European Free Trade Association, but notably not part of the European Union, the European Economic Area, or the Eurozone. However, it participates in the Schengen Area and the European Single Market through bilateral treaties.