Draft Indian Antarctic Bill 2022: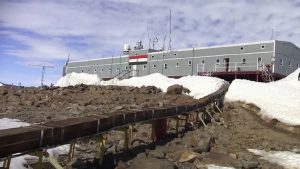 The government has introduced the 'Antarctic Bill' in the Lok Sabha, which envisages regulating visits and activities to Antarctica as well potential disputes that may arise among those present on the continent.
The Bill is applicable to Indian citizens as well as foreign citizens.
In October 2021, India extended its support for protecting the Antarctic environment and for co-sponsoring the proposal of the European Union for designating East Antarctica and the Weddell Sea as Marine Protected Areas (MPAs).
Earlier, a 100-km long body of ice in Antarctica, which has been experiencing rapid melting, was formally named Glasgow after the Glasgow climate summit.
Provisions under the Bill:
The bill has listed strict guidelines and a system of permits, which will be issued by a government-appointed committee, without which any expedition or individual will not be allowed to enter Antarctica.
The bill has provision to establish a committee on Antarctic governance and environmental protection to monitor, implement and ensure compliance with the relevant international laws, emissions standards and rules of protection.
The Bill further prohibits drilling, dredging, excavation or collection of mineral resources or even doing anything to identify where such mineral deposits occur.
The only exception is for scientific research with a permit.
There will be strict prohibition on damaging native plants, flying or landing helicopters or operating vessels that could disturb birds and seals, using firearms that could disturb the birds and animals, remove soil or any biological material native to Antarctica, engage in any activity that could adversely change the habitat of birds and animals, or harm them.
Introduction of animals, birds, plants or microscopic organisms that are not native to Antarctica are also prohibited.
Violators can face imprisonment as well as penalties.
The Bill also provides for Indian tour operators to be able to operate in Antarctica after acquiring a permit.
There are 40 permanent research stations in Antarctica of which two – Maitri and Bharati — are Indian.