REAIM 2023: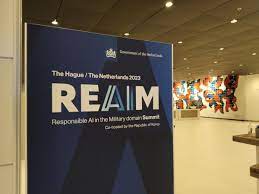 The world's First International Summit on the Responsible Use of Artificial intelligence in the Military (REAIM 2023) was held in the Hague, Netherlands.
Themes:
Mythbusting AI: Breaking Down the Characteristics of AI
Responsible deployment and use of AI
Governance frameworks
Objectives:
Putting the topic of 'responsible AI in the military domain' higher on the political agenda;
Mobilising and activating a wide group of stakeholders to contribute to concrete next steps;
Fostering and increasing knowledge by sharing experiences, best practices and solutions.
Participants:
The conference, co-hosted by South Korea, hosted 80 government delegations (including those from the US and China), and over 100s of researchers and defense contractors.
India was not a participant in the summit.
REAIM 2023 brought together governments, corporations, academia, startups, and civil societies to raise awareness, discuss issues, and possibly, agree on common principles in deploying and using AI in armed conflicts.