e-Chhawani Portal Launched: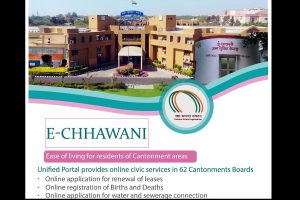 The Defence Minister of India, Rajnath Singh, has launched the e-Chhawani portal
With the launch of this portal, the residents of Cantonment areas can now register their complaints with respect to civic issues.
The portal would also help in resolving the complaints regarding the civic issues from home.
This portal will work with the objective of refining the system and improving the Ease of Living for people.
The e-Chhawani project was launched with the aim of providing online municipal services for more than 20 lakh citizens.
The services would be provided across 62 Cantonment Boards using the multi-tenancy central platform.
The portal can be used to fill online application for renewal of leases and for getting the online registration of births and deaths.
It can also be used to fill online applications for water and sewerage connections in a simpler manner.
Cantonment Board
The cantonment board is a civic administration body.
It functions under the Ministry of Defence in India.
The board is constituted of the elected members, ex-officio members, and nominated members in accordance with the Cantonments Act, 2006.
The cantonments are categorized into four categories:
Category I – where the population exceeds 50,000.
Category II –where the population stands between 10,000 to 50,000.
Category III – where the population stands between 2500 to 10000
Category IV – where the population stands below 2500.